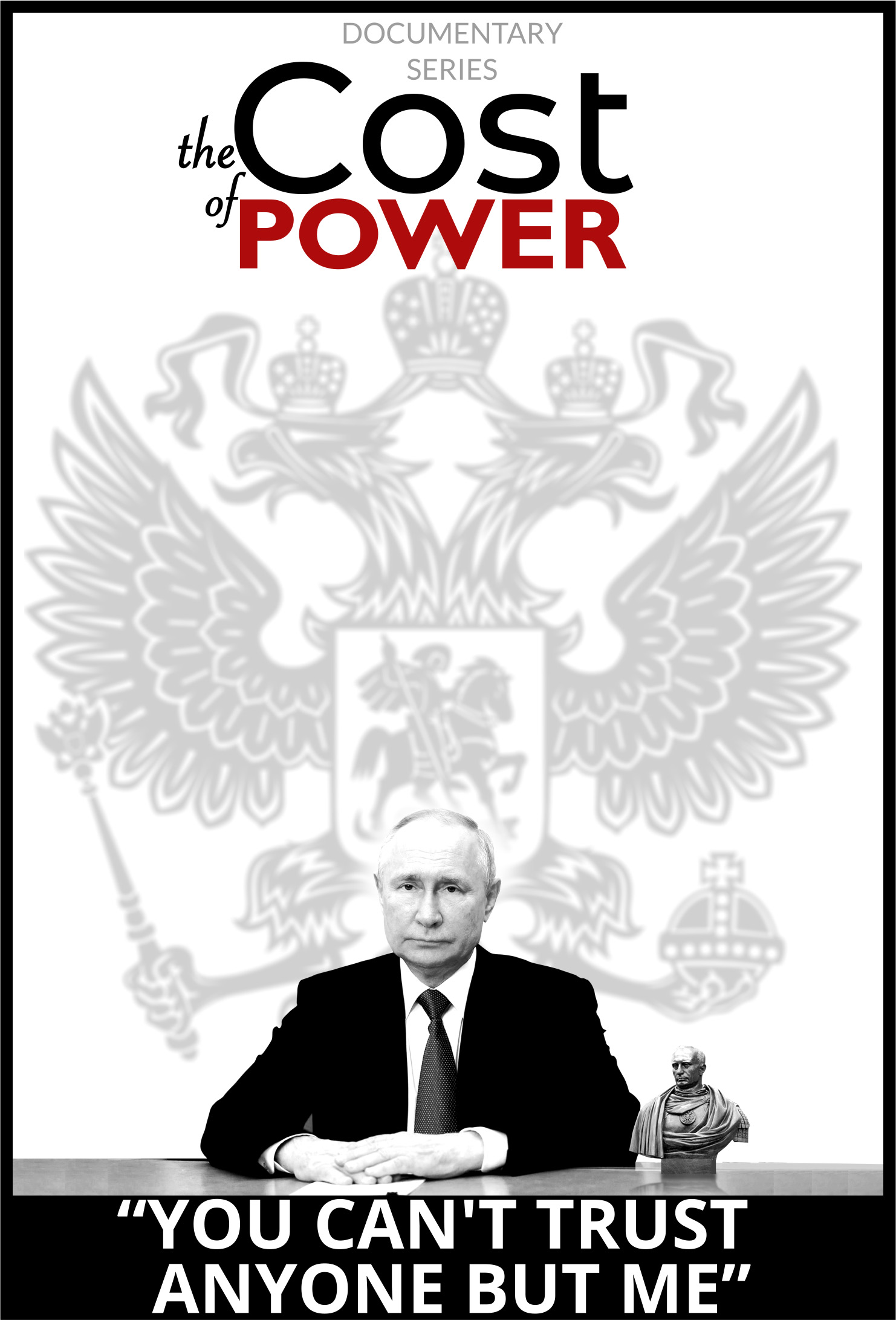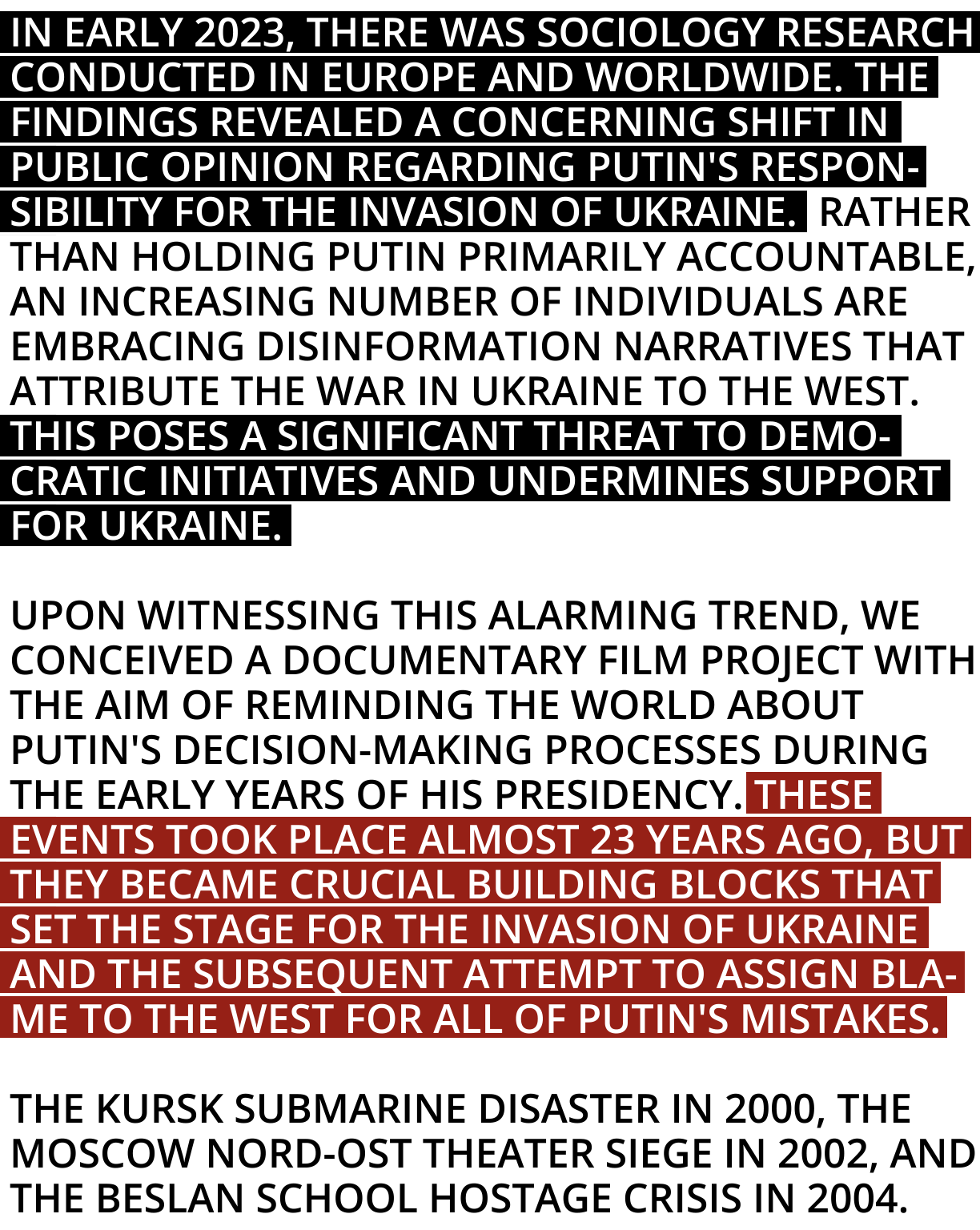 SUBMARINE TRAGEDY IN THE BARENTS SEA
IN A DEVASTATING INCIDENT, THE WORLD'S LARGEST NUCLEAR-POWERED RUSSIAN ATTACK SUBMARINE TRAGICALLY SANK IN THE BARENTS SEA, CLAIMING THE LIVES OF ALL 118 CREW MEMBERS. PUTIN FACED SIGNIFICANT CRITICISM FOR HIS DELAYED RESPONSE TO THE CRISIS. WHILE THE INCIDENT UNFOLDED, HE CONTINUED HIS VACATION, SHOWING RELUCTANCE IN ACCEPTING FOREIGN AID THAT COULD HAVE POTENTIALLY REDUCED THE DEATH TOLL.
EPISODE 2 – OCTOBER 2002:
MOSCOW THEATER HOSTAGE CRISIS
DURING A PERFORMANCE OF THE "NORD-OST" MUSICAL, A GROUP OF CHECHEN MILITANTS SEIZED A CROWDED THEATER IN MOSCOW, LEADING TO A TENSE THREE-DAY HOSTAGE CRISIS. IN A BID TO RESCUE THE HOSTAGES, RUSSIAN SPECIAL FORCES STORMED THE THEATER, EMPLOYING THE USE OF TOXIC GAS TO INCAPACITATE THE MILITANTS. TRAGICALLY, OVER 130 HOSTAGES LOST THEIR LIVES, PRIMARILY DUE TO THE EFFECTS OF THE GAS. THIS BLOODY ASSAULT PLAYED A SIGNIFICANT ROLE IN SHAPING PUTIN'S REGIME AND INFLUENCED THE PUBLIC RESPONSE TO DIFFICULT TRUTHS.
EPISODE 3 – SEPTEMBER 2004:
PERPETRATED BY MILITANTS ASSOCIATED WITH THE SEPARATIST INSURGENCY IN THE NEIGHBORING REPUBLIC OF CHECHNYA, A GROUP OF ARMED MILITANTS SEIZED A SCHOOL IN THE TOWN OF BESLAN IN SOUTHERN RUSSIA. THIS RESULTED IN A HARROWING THREE-DAY SIEGE THAT CULMINATED IN A DEADLY BATTLE BETWEEN THE MILITANTS AND RUSSIAN SECURITY FORCES. TRAGICALLY, THE SIEGE CLAIMED THE LIVES OF OVER 333 PEOPLE, INCLUDING 186 CHILDREN. THE RUSSIAN GOVERNMENT FACED SEVERE WORLDWIDE CRITICISM FOR ITS EMPLOYMENT OF EXCESSIVE FORCE DURING WHAT BECAME THE DEADLIEST SCHOOL SIEGE IN HISTORY.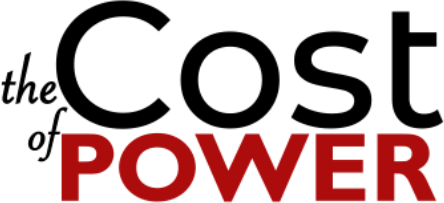 +38 (095) 212 5425
+1 (734) 686 1307
Ukraine – Poland – USA